Maker Faire Rome – The European Edition 2022: 10 years of innovations
Call for Universities and Research Institutes 2022 – Now open
Submit your proposal by June 26th
Are you a student, a researcher, a professor working on a highly innovative project? Present your work and celebrate 10 years of innovation with Maker Faire Rome
Maker Faire Rome – The greatest European event on innovation, will be back for its 10th edition from October 7th to the 9th
For the occasion, #MFR2022 will be a Special Edition: The Fair will take place in an original venue of the Gazometro Ostiense in Rome and will be preceded and followed by a series of further initiatives in the name of innovation and creativity.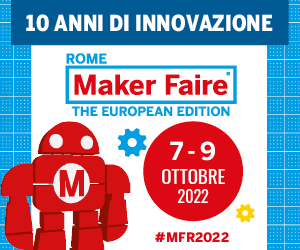 Promoted by the Rome Chamber of Commerce and organized by its internal unit Innova Camera, Special Agency of the Chamber of Commerce, Maker Faire Rome addresses all the key components of innovation: from digital manufacturing to the Internet of Things, from robotics to artificial intelligence, from circular economy to agritech, passing through biohacking, big data and aerospace.
Through the "Call for Universities and Research Institutes 2022", Maker Faire Rome intends to highlight the best projects in the technological and innovative field carried out by state universities and public research institutes, both Italian and foreign: over the years, their contribution has been decisive for the success of the event.
This year the selected projects will have an entirely free physical space within # MFR2022.
Applications must be submitted by June 26th 2022 at the following link
https://makers.makerfairerome.eu/eng/login?from=%2Feng.
Public, Italian and international Universities and Research Institutes will be able to:
present their project: a space will be provided, free of charge, to allow curious onlookers and interested visitors to enquire about and enjoy the project;
perform activities (presentations to the public): a physical and/or virtual space will be provided, free of charge, where presentations on topics related to event themes can be held, experiences shared, and practical demonstrations (workshops) performed.
perform in public (performance): a physical and/or virtual space or a physical and/or virtual stage will be provided, free of charge, to deliver their own creative, technological, robotic or musical performance. Performances can also take place as webinars to facilitate the enjoyment and dissemination among the public.
There are three possible ways of participating:
exhibition of the project;
realization of presentations to the public and workshops (the detailed programming of these activities could take place digitally on dates other than those scheduled for the exhibition event);
public performances with creative, technological, robotic or musical performances. The performances can also take place in the form of webinars.
All useful information is available at the following page https://makerfairerome.eu/en/call-for-universities-research-institutes/
For information on the Call write to: Questo indirizzo email è protetto dagli spambots. È necessario abilitare JavaScript per vederlo..
Get involved, submit your project, take part in the Maker Faire Rome 2022 event!